EAP News
April 21, 2021
Guidance for Supporting Pets in the Pandemic Transition
Stacey J. Drubner, JD, LICSW, MPH
EAP – "Ask the Expert" Rob Halpin, Director of Communications at The Massachusetts Society for the Prevention of Cruelty to Animals – Angell Animal Medical Center (MSPCA-Angell)
Humans are not the only ones who have experienced changes in their regular routine during the Pandemic. Pets have also seen life as they know it modified. Additionally, a record number of animals found families during the last year. According to the MSPCA-Angell, their shelters have reported a 10-fold increase in adoptions.
The Mass General Brigham EAP was fortunate to have a conversation with Rob Halpin, MSPCA–Angell, about how to support our pets now and during the Pandemic transition. Below, we share Rob's helpful guidance that he has gathered through consultation with veterinary experts at Angell Memorial Medical Center.

Training your New Puppy or Adult Dog
If you are lucky enough to have added a pet to your family, you have most likely realized the joy this can bring but also some of the challenges. Before COVID, most of us were not used to dogs barking or pulling on our clothes while we were in a work meeting. Rob explained that pet owners may be unintentionally reinforcing these behaviors by the way they acknowledge or respond to them. Believe it or not, ignoring your dog when they engage in these behaviors may bring more success than a verbal or non-verbal reprimand. Here are some Training Tips from Angell to help you and your dog learn more productive behaviors. Angell also offers Animal Behavior Classes, now available on a virtual platform.

Preparing your Pets for your Transition to Life Outside of the Home
Whether you are returning to work or re-engaging in pre-Pandemic activities and hobbies, you should determine how (and if) this will impact your pets and their well-being. Rob stressed that it is vital to start planning for this transition well in advance, to allow for time to evaluate your pet's needs and tweak your plan. It may take some trial-and-error efforts.

Guidance for Dog Owners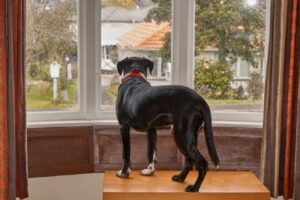 Chances are that many dogs welcomed more time with their family members and are now accustomed to having them around more often. To acclimate dogs to the "new normal," Rob suggests the following:
Be patient with yourself and your pet. Be realistic about what you can achieve and how quickly
Ease dogs into being home without family members. Start by leaving for small increments and increase over time
– Try 2 hours once a week, then 2.5 hours 2x/week and so on
Evaluate your dog's comfort level during your absences from the house
Look for signs of distress or boredom:
– Inappropriate soiling
– Shredding/tearing things up
– Tipping things over
– Changes in eating habits
– Excessive barking
– Other behavior changes
Provide "enrichment activities"
– Give your dog something to work towards-finding toys around the house, getting treats or peanut butter out of a Kong or similar item
Have a plan for socialization and exercise
– Dogs need walks or exercise at least a few times during the day. Set up a schedule with neighbors, family, dog walkers or day-care if you are unable to go home during work
Rob cautions against trying to get all your dog's exercise in before work and without proper training
– Like the rest of us, dogs need time to adjust and build up endurance. Angell reports more incidences of heat stroke in April than in August
– Keep in mind that dog stimulation is also fed by the opportunity to explore not just by exercise
Enlist neighbors or a video camera to inform you on your pet's progress or track issues
Consult your vet, an animal behavior expert or trainer if you have any concerns or if your dog has greater than expected trouble adjusting

Guidance for Cat Owners
Rob explained that unlike dogs, many (but not all) cats are more comfortable with privacy and solitude. Clinically, Angell has had an uptick in visits for "blocked cats" who were reluctant to use litter boxes, due to a lack of privacy. This resulted in stress and anxiety and a change in regular habits. There are cats who prefer more social interaction. To acclimate these cats to the "new normal," Rob suggests the following:
Be patient with yourself and your pet. Be realistic about what you can achieve and how
If it safe to do so, open windows with screens to allow cats to hear and see birds and outdoor activity
Keep the litter box clean
Leave fresh food and water
Scatter toys around the house to encourage activity and mental stimulation
Consider adding another cat if this makes sense for your family

Resources to Help you and your Pets Thrive
MSPCA – Separation Anxiety in Dogs
PetMD – Separation Anxiety and Cats
Forbes – Health Insurance for Pet Health Issues during the Pandemic
National Geographic – Pets are Helping us Cope during the Pandemic but is this Stressing them Out?
Full Mass General Brigham Pet Resource Section
About the MSPCA-Angell
The MSPCA-Angell (founded in 1868) is a leader in animal protection and veterinary medicine. They provide direct hands-on care at Angell Animal Medical Center for thousands of animals each year.  The MSPCA also includes Animal Care and Adoption Centers, an Advocacy Department, and Law Enforcement Department.
For confidential assistance, contact the EAP at 866-724-4327 or to request an appointment via our online form.
© 2023 Mass General Brigham EAP All rights reserved.